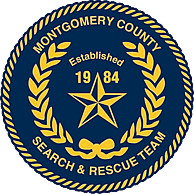 One of the earliest search and rescue groups to organize in the State of Texas,
Montgomery County Search & Rescue Team
(MOCSAR), was established in 1984 by a group of county residents interested in helping others.
MOCSAR is recognized throughout Montgomery County and Texas for its dedication to the community, commitment to and expertise in SAR operations, as well as its high standards for membership and training. Members of the team are professionally trained in specialized areas such as man-tracking, ground search and black water diving. Other members of the team use specially trained dogs and horses to facilitate tracking efforts as well as all terrain vehicles. Types of missions include lost persons, drowning victims, hiking accidents, swift-water and wilderness rescue.
MOCSAR is a 501(c)(3) tax exempt, non-profit corporation operating solely on donations it receives from fund raisers, private citizens, local businesses, and government grants. No team member ever accepts or is paid for his or her services. If you would like to make a donation to MOCSAR, please email us at
info@mocsar.org
or complete the online donation page.

Our next monthly meeting is scheduled for 7:30 PM on Thursday, April 26, 2018. Location is The West Montgomery Community Center (Friendship Center)
located at 31355 Friendship Drive, Magnolia, TX.
Donate to Montgomery County Search and Rescue Team
Montgomery County Search & Rescue Team is a 501(c) 3 charitable organization. To the extent allowed by law, contributions are deductible as charitable contributions for federal income tax purposes.
---